How Do We Teach The Quran?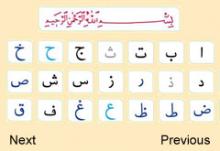 We want our students to read the Holy Qur'an with a proper Arabic accent and correct pronunciation. Therefore, we start at the very basic level of alphabets so that our students develop a strong foundation.
On the completion of this course students will be able to read the holy Quran with correct Tajweed rules . Students will also be taught basic Islamic Education with Quran reading classes like important Duas , Prayers , and the 6 Kalmas.
Learn more about the curriculum?
We have designed our course in the form of standardized lessons which are easy to understand and use, starting from the pronunciation of the Arabic alphabets. Each lesson concentrates on a particular rule of Tajweed.
Tajweed means to pronounce or recite every letter correctly. Tajweed and its application can only be learned with a qualified Quran teacher. The rules themselves can be studied independently, but the correct application and proper pronunciation of the alphabets of Quran can only be done by reading to, listening to, reciting to, and being corrected by a qualified teacher of the Qur'an.